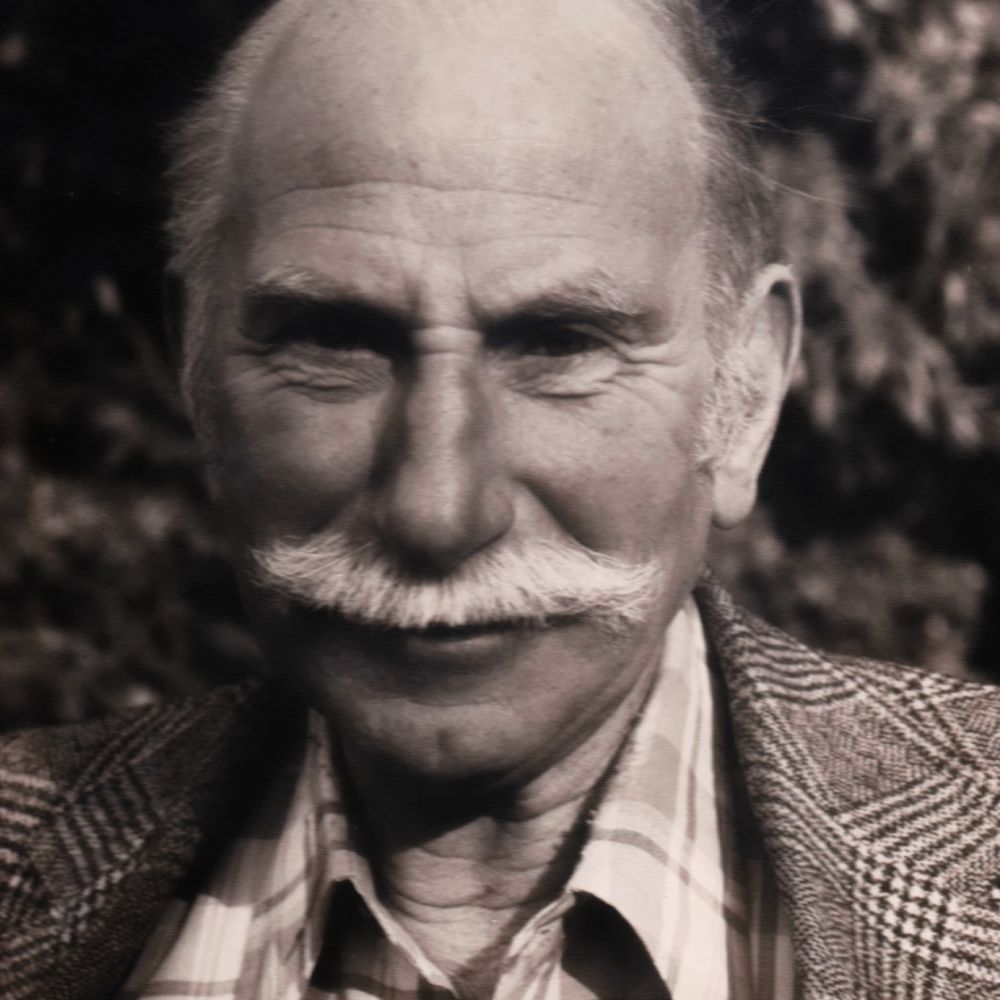 Hastings Pier Head, Memorial Plaque
We honour Sir Thomas Charles Knight with a Memorial Plaque on the Pier's head of Hastings, UK.
To our dear family,
Tuesday, 27th March 2018, at 10:30 pm, Thomas Charles Knight passed away peacefully in his sleep.
Friday 4th May 2018 we came together to say our last goodbye to,
Daddy, Brother Tom, Uncle Tommy, Great-Uncle Tom

We have cherished and shared the fine memories of a lovely and wonderful man,
Who has lived his live to the fullest and completed his life in full circle.

I would like to share once again a short summery of Dad's life.

Tommy was born as "Thomas Charles Knight" on May 7, 1924, in Poplar, Bow and Bromley, London, England.
Actually 3 months to early and from his own sturdy talk, that this joyous event
took place in a pub, where he was dropped in an empty pint and under the loud sound
from the famous Bow-Bells, making him a real "Cockney".
1st child and son of "Thomas William Knight" (sailor for the British Royal Navy) and "Matilda
Elizabeth Fall "(housewife). He grew up in the East-end of London, where he and the well-known singer Vera Lynn went at the same school.

Tommy was a real rascal and teaser. His two younger sisters "Tilly & Joyce"
were his particular favorite targets. I bet Joyce can still tell some funny stories.
Daddy was called up at the age of 16 to take part in World War II as a very young soldier.
He was trained as a mechanic and it was not long before he learned to drive around a tank. If we were allowed to take a look inside, we find his name and that of his comrades in the tank that is still showing off at the old expo building in Antwerp. With this tank Tommy took part of the great liberation that would mean an end of the Second World War.

As the handsome young man he was, he made several young Flemish girls hearts pound faster.
Only one girl has conquered his heart forever and ever. Our mummy,
you better known as our "Simonne". Again a cool story that was told plenty of times, was that "Tommy" was found drunk by our mum in the gutter in front of a pub called "Den Braeckman" in the Heidestraat in Wilrijk. She took care of him, brought him back to her home and since then they were stuck together like glue.

Together as a young couple they left for England with parental consent. Our Simonne was only just 15 ... 16 years of age, which would make a bit of a stir these days.
On March 22, 1947 they both took the big plunge, and gave each other the "I do's" during their wedding in the church of St. Elizabeth at Ilford, London, England. Simonne and Tommy were already in great expectation of their first son, John Knight, who was born on November 5, 1947.

After only 5 years they all returned to Belgium, ... primary for health reasons (mummy had
tubercelosis), but mainly because of Simonne intense desire to go back to her family in Belgium and home.

Tommy's mum died of cancer on 17 July 1956 at a young age of 57.

On 18 March 1965, I was born as 2nd child and son in Deurne, Belgium, and named me Patrick. Indeed 17 years difference with my brother, and it certainly was a big suprise for everyone, when it turned out that Simonne was pregnant again.

Tommy spent a large part of his life working for British Petrol, where he drove around his truck supplying people, factories and petrol stations daily with fuel and petrol. As a child I was allowed to ride with him regularly throughout the country and then he proudly told the people that I was still in training. When we met colleagues on the way, I had to hide in the cabin every time. One day Tommy was also in the newspaper. He had accidentally landed on a ship with his lorry. But especially his years of service for BP were appreciated in such a way that he received a certificate, medal and garter received from her Majesty Queen Elizabeth II, which also gave him the title of Sir. Tommy.  Dad always remained very modest about his new title, but many continued to appeal to him as Sir Thomas, which somehow did please him anyway.
As hobbies he got involved in wooden modeling ships and he liked to go fishing. Again, often he took me on these fishing boat trips on the Dutch open sea. Then he would made sure that I could warm myself downstairs with a delicious bowl of Holland pea soup with extra bacon and sausages.
If we didn't catch any fish, we would on our way home, quickly stop by the fish shop and then once at home show off our catch of the day.

Tommy's father died on April 15, 1980 at the age of 83.

The sport baseball has also fascinated him, especially because my brother Johnny was a successful player. Tommy has long been engaged as a scorer and maintenance man for the team. At some point he even had himself sponsored to get money for new red sand for the baseball field. He then cycled from Antwerp to London with his bike. Tommy has always been an honorary member of the Pioneers, also known as Bell Baseball.
My parents would have liked for me to become a baseball player too, but soon noticed that I was often only interested in the flowers on the field. When I got a ball straight in the face, there was no point in pushing me even further. I wanted to become a sports swimmer and later on an entertainer.

Everywhere they went along to support me, swimming competitions, play-back and sound mix competitions.
When I opened my record store in 1988 in Hoboken, Daddy was happy to help out and he was very well loved by all of our customers. It is during that period that some adorable pets came into our lives. Tommy loved our "Yorky" a yorkshire terrier and our "Boy" a Malinois sheepdog which was a good guard for our store. Many years later our "Tommeke" came, a Dutch smous dog and "Mayté" our very lovable cat. Unfortunately, they are no longer among us and the grief about their loss was never really been recovered. We are firmly convinced that Tommy has already been reunited with all of our four-legged friends.

One of Tommy's and Mum's favorite activities was going on vacation. Formerly annually and alternately each time for at least a month to Italy and Spain. And up to 5 years ago twice a year to their favorite destination and hotel in Bodrum, Turkey. There they became hugely
spoiled by everyone and both considered as one of their Turkish family.

March 22, 2007 has become a very special day. Then Luc officially became my husband and son-in-law. That day, Tommy and Simonne were also honored, because it was also their 60th diamond wedding anniversary. It became a super festive and unforgettable day for the whole family.


A year later in 2008, mum & dad came to live with us.

Tommy's sister Tilly died on September 15, 2009, she became 83, same age as their father.

During the 5 years that mum & dad lived with us, we were able to give them a warm nest, surrounded by loving care, in which they truly felt at home. When it became too much for us and almost impossible to take care of mummy. Tommy decided to join his beloved wife to the residential nursing home in Niel. They shared a room. But then after a year it turned out that mummy's dementia needed special care and she had to be moved to the secured department. Tommy came to live with us again for a while. But his longing to be with Simonne, became too heavy for him and he returned back to the nursing home. In the beginning they were short stays, but then he got his own room on the 2nd floor. I do not need to tell you how much Tommy was loved there and it didn't take long for him to be considered as family by the staff. Tommy made many new friends who will deeply miss him at Mary's Word nursing home. He collected stamps, books. Puzzled and even ventured to paint. Tommy even got his own art exhibition where he could exhibit and sell his paintings. He has regularly visited England for family visits, often even completely independently. We all remember the one time when Tommy was missing for a short while and caused a lot of panic. Fortunately, dad was always very resourceful and always managed to get home safe.

Our Daddy, Tommy lived a brilliant life, a bit overshadowed by the misery of the 2nd World War and a very regrettable solace of the break with son Johnny. But almost 94 years, a blessed age. Never been really sick (only the annual health dips in December), no bone fractures incurred (even after the many falls of the past years), no pain suffered and being able to make the full circle in his life.
In 2017 they had a big party for their 70th Platinum Jubilee and this year managed to still celebrate their 71st wedding anniversary. Their love for each other is unique and rare, just like
Tommy was too. A beautiful person with so many beautiful features. A loving and caring man.
An example for everyone.
Tommy still had the opportunity to say goodbye to everyone he loved, to be able to come to terms with himself, to have his confession before a priest and receiving the anointing of the sick and dying.
Spending his last full day with his beloved wife and son. Daddy had made peace with himself and accepted that his time had come. In Tommy's own words "I found my peace and I'm ready to go", "Today I'm gonna fly to heaven". He fell asleep at 8 o'clock in the evening and died around 10:30 pm
Text by Patrick J. A. Knight

Tommy, Thomas, "Sir Thomas", as I used to call you. The word "Sir", I used out of respect because you were a soldier who saved and changed the lives of many people. You never spoke about it, but the medals you received, told a story we should never forget. It was a privilege to be a nurse for you the last 4 years. You're smile, the glittering in your eyes, a simple "hello" will be missed. May you rest in peace. I will remember you, always
Text by Wim H. Claes (Written by one of dad's favorite male nurses)
We would like to thank everyone involved for a truely perfect send off.
With a special thank you to Father Sean & The Parish of St Clements & All Saints Church, Hastings, East Sussex, UK. For a most beautiful cermony.
Special thanks to the old WWII veteran, flag bearer for paying tribute to their fellow comrade.
We hope you all enjoyed the Jack in the Green, May Festivities - and many of the events - on the new pier and also simply enjoying the space, light and open sunny skies of a leisurely promenade out across the deck. The views out to sea and along the shoreline are stunning!
Dad was looking over us all and saw that it was good! And to have an outstanding fantastic "Jack in the Green" parade on your 94th birthday is more than a man could wish for!
And a more solid memento would make things even more perfect, so a special memorial plaque has been installed at Hastings Pier, UK – in remembrance of the wonderful, kind, funny and loving man Sir Thomas was.
Dad's Memorial Plaque has allready been installed. His Memorial Plaque can be found right up the front of Hastings Pier Head, making everyone proud that we had the honour of being part of his life. With A BIG THANK YOU to our family in England who have all contributed with their donation towards dad's plaque.

With love,
Esq. Patrick J. A. Knight.